Watch: Queer Musician Perfume Genius Announces New Album, Shares Vid for New Song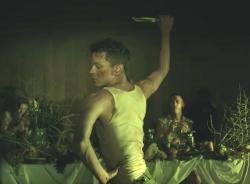 Queer musician Perfume Genius (a.k.a. Mike Hadreas) announced his new album and shared a music video for a new song, Pitchfork reports.

"Set My Heart on Fire Immediately," Perfume Genius's fourth album, will be released on May 15 and the singer has already released the video for his lead single "Describe."

"I wanted to feel more open, more free and spiritually wild, and I'm in a place now where those feelings are very close—but it can border on being unhinged," Hadreas said in a statement to Pitchfork about the new music. "I wrote these songs as a way to be more patient, more considered—to pull at all these chaotic threads hovering around me and weave them into something warm, thoughtful and comforting."

Perfume Genius is also heading out on tour with Tame Impala this summer. His last album "No Shape" was released in 2017.

Watch the vid for "Describe" below.
Comments on Facebook