Top Story
A wheeled robot named Marty is rolling into nearly 500 grocery stores to alert employees if it encounters spilled granola, squashed tomatoes or a broken jar of mayonnaise.
SpaceX said Wednesday that it will build test versions of its Mars spaceship in south Texas instead of the Port of Los Angeles in another blow to the local economy that comes days after the company announced massive layoffs.
Egypt says archaeologists have uncovered two ancient tombs dating back to the Roman period in the country's Western Desert.
An app shilling so-called "conversion therapy" to LGTBQ youth was dropped by Apple and Amazon after outrage erupted, but that same app is still up at Google Play. Advocates for the targeted demographic want to know why.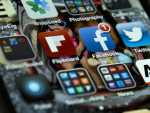 Consumer advocates and the data-hungry technology industry are drawing early battle lines in advance of an expected fight this year over what kind of federal privacy law the U.S. should have.
Several House Republicans asked T-Mobile, AT&T, Verizon and Sprint how they share their users' cellphone location data, citing a recent report that telecoms are selling that information to shadowy companies without customer knowledge.