Despite its religious underpinnings, and in accordance with Muslim faith, festival organizers have made one thing clear: Non-Muslims are welcome.
A Methodist church in Alabama is screening an episode of the PBS children's show "Arthur" that has been shunned by Alabama Public Television for featuring a same-sex wedding.
Rhode Island's Catholic bishop defended a tweet urging Catholics to not support or attend LGBTQ Pride Month events: "They promote a culture and encourage activities that are contrary to Catholic faith and morals. They are especially harmful to children."
Pope Francis paid homage Sunday to Catholics who were persecuted, tortured and killed during Romania's communist regime by beatifying seven bishop martyrs on his third and final day in the country.
A Catholic girls school in Washington, D.C., says it's getting overwhelmingly positive responses to its decision to include same-sex union announcements in its alumnae magazine.
The Muslim holy month of Ramadan, with its long days of fasting and prayer meant to draw worshippers closer to God and away from worldly distractions, is being reshaped by technology.
Pope Francis said Saturday that abortion can never be condoned, even when the fetus is gravely sick or likely to die, and urged doctors and priests to support families to carry such pregnancies to term.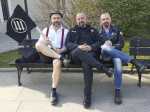 Poland thought it had started confronting the problem of clerical abuse and its cover-up by church authorities. Then a bombshell came: A documentary with victim testimony so harrowing it has forced an unprecedented reckoning with pedophile priests.
The Church of Jesus Christ of Latter-day Saints announced its opposition Monday to a comprehensive nondiscrimination bill that faces long odds in Congress.
A 220-year-old Catholic girls' school in Washington, D.C., will now allow news about same-sex unions in its alumnae magazine.