Pope Francis met privately Monday with an American Jesuit who has been attacked by conservative U.S. Catholics for reaching out to gays, the latest evidence of Francis' willingness to shrug off right-wing criticism for the sake of his pastoral priorities.
Pope Francis on Sunday decried "the culture of comfort" that leads to indifference in the face of a global migration and refugee crisis.
When post offices close Monday, the last victim compensation funds at Pennsylvania's Roman Catholic dioceses will also close.
A Jesuit-run high school that refused to fire a teacher in a same-sex marriage will be allowed to resume all-school Masses while it appeals its status as a Catholic school.
Kanye West has held an outdoor worship service that attracted thousands of people to the Wyoming city where he owns a ranch.
Duke University's student government has rejected a national Christian organization as an official student group because its policy excludes LGBTQ individuals from leadership positions.
A California transgender man can go ahead with a discrimination lawsuit against a Catholic hospital that canceled his hysterectomy, an appeals court ruled Tuesday.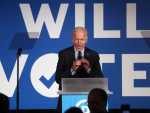 It was one of the first stress tests of Joe Biden's presidential campaign: A sudden reversal of his decades-long support for restricting federal funding of abortions.
The leader of The Church of Jesus Christ of Latter-day Saints reaffirmed the religion's opposition to gay marriage, while explaining that leaders lifted a short-lived ban on baptisms for children of gay parents because they felt the "heartache" it caused.
Two Pulse nightclub shooting survivors organized a march last Saturday to connect so-called "overcomers" of homosexuality. This takes place shortly after a petition has gained thousands of signatures to ban conversion therapy.