A new Pew Research Center article> analyzing Stanford University data revealed that bisexual adults are "much less less likely than gays and lesbians to be 'out' to the important people in their lives."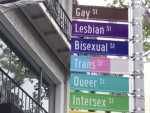 Happy Pride to New York's LGBTQ+ community!
YouTuber Elijah Daniel is new mayor of Hell. His first act? Renaming the town Gay Hell in honor of Pride month.
A man who offered "Free Dad Hugs" at Pittsburgh Pride took to Facebook to share his experiences - and plead with parents not to reject their LGBTQ children.
The largest gay pride parade in the Middle East drew hundreds of thousands of revelers and demonstrators from all over to the streets of Tel Aviv on Friday.
At a show in London Monday, Halsey wore a t-shirt with the image of Melania Geymonat and her partner on one side, and the tagline "Fuck Your Straight Pride" on the back. Watch her emotional speech below.
Self-described "straight, country boy" Cody Barlow believes duct tape really can fix anything, including bigots.
A beautiful day and the biggest crowd in history made this year's Boston Pride Parade and Festival one of the biggest events this year in the city.
Although the DC Capital Pride Parade was marred by an active shooter scare towards its end, the day was still filled with much celebration. The Pride Festival was rained on, but not rained out, as people gathered near the National Mall for a great time.
TV Land actor Nico Tortorella responded to President Trump's controversial Pride Month tweet, saying he'd "rather see him post about it than not, because it's starting more conversation..."