Gay Orlando: The Latest
San Franciscans have had rare opportunities to catch exciting new shows performed in London and New York without traveling, even as nearby as Petaluma, where the gay-themed "The Absolute Brightness of Leonard Pelkey" will stream for online audiences.
As President Donald Trump entered the final year of his term last January, the U.S. recorded its first confirmed case of COVID-19. Not to worry, Trump insisted, his administration had the virus "totally under control."
Mad Tsai has released his first song, "Boy Bi," a proud declaration and celebration of bisexuality.
Husbands Rick and Griff Twombley-King are content creators who make their living providing X-rated pictures and videos to hundreds of followers on social media. EDGE spoke to the couple as to how it has happened.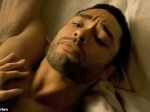 Netflix's sexually provocative breakout hit "Bridgerton" is finding it difficult to keep their steamy scenes off of porn sites.
Dozens of facilities have cropped up around the U.S. to address a puzzling aspect of COVID-19 — the effects that can stubbornly afflict some people weeks or months after the infection itself has subsided.
A federal judge in Oklahoma has ordered the new owners of an Oklahoma zoo featured in Netflix's "Tiger King" documentary to turn over all the lion and tiger cubs in their possession, along with the animals' mothers, to the federal government.
Two Virginia Democratic lawmakers are spearheading a push to repeal a decades-old law that allows the state to hold certain sex offenders at psychiatric facilities indefinitely after their criminal sentences if they are deemed "sexually violent predators"
Senate Republican leader Mitch McConnell opened the Senate on Tuesday saying the pro-Trump mob that stormed the Capitol was "fed lies" by the president and others in the deadly riot to overturn Democrat Joe Biden election.
Elite Alpine skier Hig Roberts came out last month, saying he was "ready to be happy." In a new interview, Roberts described being overwhelmed with love and support from fans, friends, and other athletes.
Hong Kong's law enforcement are looking into a racy video filmed on a Mass Transit Railway (MTR) train. The viral clip shows two men engaging in sexual acts and clothing strewn across the seats.
TikTok star Noah Beck and photographer Damon Baker are calling out Instagram after the social media platform removed their sexy black-and-white photoshoot.
The head of France's state rail company has sounded the alarm over the future of the Eurostar train service, which connects the U.K. with continental Europe and has been hurt badly by the halt to travel during the pandemic as well as Brexit.
OnlyFans has been a boon for some during the Pandemic, including Aussie model Alec Nysten. But the 28-year old is seeing his revenue stream compromised by leaked pics.
The year that brought so many surprises is shaping up to be a surprisingly good one for investors, and that's a timely reminder for 2021.
Trucks and SUVs will dominate the news in 2021. Edmunds' experts cover the five they think will make the biggest splash.
France's Michelin Guide, which has long served as a bible for foodies, is adapting its awards ceremony in Paris for the year that was like no other.
President-elect Joe Biden has tapped Pennsylvania Health Secretary Rachel Levine to be his assistant secretary of health, leaving her poised to become the first openly transgender federal official to be confirmed by the U.S. Senate.
A recent survey revealed that queer travelers are ready — and confident — to go on vacation.
The term "sexual fluidity" has come under scrutiny as researchers further explore the nuances our sexual expression, attraction and behavior.