Top Story
"When we're voting, it's easy to think it's just for a candidate or party we align with, but it's so much more than that," says Drag Out the Vote'...
1 thru 10 of 55444 Stories
A Mexican television broadcaster confirmed Thursday that Pope Francis' bombshell comments endorsing same-sex civil unions were made during a May 2019 interview that was never broadcast in its entirety.
A judge has dismissed the lawsuit of one of two men who alleged that Michael Jackson abused them as boys in the HBO documentary "Leaving Neverland."
The mute button is among a handful of changes implemented by the nonpartisan debate commission to help ensure a better sense of safety and order following the raucous opening debate 23 days ago.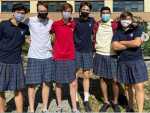 16-year-old Zachary Paulin decided to make a statement about the dress code at the school he attends, Collège Nouvelles Frontières in Gatineau, Quebec, which he saw as discriminatory.
President Donald Trump posted his full, unedited interview with "60 Minutes" on Facebook before the show's scheduled Sunday broadcast.
In the new "Borat" satire, Rudy Giuliani is caught reaching down his pants in a hotel room with a 26-year old woman, but claims the implications of the scene are a complete 'fabrication.'
If Joe Biden wins the presidency in November, health is likely to play a high-profile role in his agenda. Just probably not in the way he or anyone else might have predicted.
The Gay, Lesbian and Straight Education Network will honor six students through celebrity-directed stories at its 30th annual reimagined ceremony.
A Catholic university in Massachusetts sent students a pre-Election Day message comparing marriage equality to abortion and war crimes. Alumni responded with a letter to the administration calling them out for it.
Sacha Baron Cohen trolled a group of conservatives Saturday, leaving them fuming for being played.
1 thru 10 of 55444 Stories