Gay Orlando: The Latest
A Mexican television broadcaster confirmed Thursday that Pope Francis' bombshell comments endorsing same-sex civil unions were made during a May 2019 interview that was never broadcast in its entirety.
A judge has dismissed the lawsuit of one of two men who alleged that Michael Jackson abused them as boys in the HBO documentary "Leaving Neverland."
The mute button is among a handful of changes implemented by the nonpartisan debate commission to help ensure a better sense of safety and order following the raucous opening debate 23 days ago.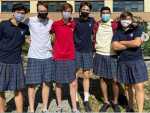 16-year-old Zachary Paulin decided to make a statement about the dress code at the school he attends, Collège Nouvelles Frontières in Gatineau, Quebec, which he saw as discriminatory.
A new documentary about legendary New York City rock band The Velvet Underground will premiere on Apple TV+.
Some dentists smile about its promise, seeing it as a way to become more efficient while others see it as lesser-quality care that's cheaper for dental professionals to provide, allowing them to make more money.
President Donald Trump posted his full, unedited interview with "60 Minutes" on Facebook before the show's scheduled Sunday broadcast.
In the new "Borat" satire, Rudy Giuliani is caught reaching down his pants in a hotel room with a 26-year old woman, but claims the implications of the scene are a complete 'fabrication.'
If Joe Biden wins the presidency in November, health is likely to play a high-profile role in his agenda. Just probably not in the way he or anyone else might have predicted.
The Gay, Lesbian and Straight Education Network will honor six students through celebrity-directed stories at its 30th annual reimagined ceremony.
A Catholic university in Massachusetts sent students a pre-Election Day message comparing marriage equality to abortion and war crimes. Alumni responded with a letter to the administration calling them out for it.
Jared Leto is yet again showing off his bod but this time, it serves as an important reminder for his fans.
Short-video app Quibi said it is shutting down just six months after its early April launch, having struggled to find customers.
The University of Oxford says the late-stage trial of its COVID-19 vaccine in Brazil will continue following reports of a participant's death.
Months after vowing to process a backlog of 160,000 requests for loan forgiveness from students who say they were defrauded by their schools, the U.S. Education Department has rejected 94% of claims it has reviewed.
The electric car and solar panel maker said Wednesday that it made $331 million, or 27 cents per share, for its fifth-straight profitable quarter.
More social gatherings will be migrating outside this season to adhere to social distancing guidelines, so why not give a boost with a new sweater or sweatshirt? Here's a look at 10 of our favorites.
"As women of color, you get questioned a lot about your emotions and the truth of your physical state. You get called an exaggerator a lot throughout the course of your life," says Karla Monterroso.
To honor LGBTQ History Month, Todrick Hall has partnered with Orbitz to share some of his favorite queer locales throughout Los Angeles.
Sex workers have been saying they face significant violence from police and clients for decades and it is time that we all listen to these voices when determining how to improve safety for sex workers," says an ACLU representative.