Watch: Chris Evans & Paul Rudd Join 'Billy on the Street'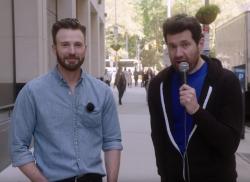 Out comic Billy Eichner shared a new clip of his "Billy on the Street" show where he and Chris Evans run around New York City, asking folks questions about the celebrity and pop culture in general.

In the clip, Eichner also celebrates the 15th anniversary of his man-on-the-street show, which is now on Netflix for the first time. At one point, Eichner asks someone to sign a petition to "remove Kevin Spacey from homosexuality and add Chris Evans."

Later in the episode, Paul Rudd shows up...as do a group of lesbians who team up with the comedian.

Watch the hilarious clip below.
Comments on Facebook