Top Story
UK's Channel Four released a first-look trailer and a still from Russell T. Davies' new series "It's A Sin."
A judge has dismissed the lawsuit of one of two men who alleged that Michael Jackson abused them as boys in the HBO documentary "Leaving Neverland."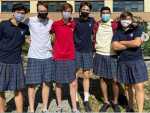 16-year-old Zachary Paulin decided to make a statement about the dress code at the school he attends, Collège Nouvelles Frontières in Gatineau, Quebec, which he saw as discriminatory.
A new documentary about legendary New York City rock band The Velvet Underground will premiere on Apple TV+.
President Donald Trump posted his full, unedited interview with "60 Minutes" on Facebook before the show's scheduled Sunday broadcast.
In the new "Borat" satire, Rudy Giuliani is caught reaching down his pants in a hotel room with a 26-year old woman, but claims the implications of the scene are a complete 'fabrication.'