Top Story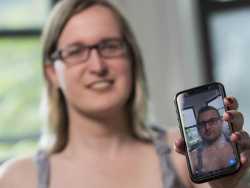 The gender-bending selfies accompanied by flip or sarcastic comments are flooding social feeds since Snapchat introduced a filter this month allowing users to swap gender appearanc...
Google is assuring users of Huawei smartphones the American company's basic services will work on them following U.S. government restrictions on doing business with the Chinese tech giant.
For four decades, Beijing has cajoled or pressured foreign companies to hand over technology. And its trading partners say if that didn't work, China stole what it wanted.
Hit a button, and you're "transformed" into a woman. The beard disappears. The face and jaw smooth out. The hair floats jauntily around the shoulders.
In Utah, drones are hovering near avalanches to watch roaring snow. In North Carolina, they're searching for the nests of endangered birds. In Kansas, they could soon be identifying sick cows through heat signatures.
Amid the nation's largest measles outbreak in 25 years, pro-vaccine advocates are cheering this apparent shift that challenges Vashon's reputation as a hotbed of highly educated, anti-establishment parents who choose not to vaccinate their children.