1 thru 10 of 4475 Stories
This is a story about bosses and their workers, in the dark days of COVID-19. It's also a story about how one good turn deserves another and yet another.
Home bars have never been more well-stocked, but what to do with all of those spirits? Shake up a new recipe with one of these libations from some of the country's best bartenders and drinking destinations.
One bright spot is emerging from self-quarantine and mandatory working from home: In this nation that so often dines out or gobbles processed food on the run, Americans are cooking a whole lot more.
How long can the hospitality industry — restaurants, cafes, bars, diners, all the places that welcome people — survive in isolation?
Food Network star Marc Murphy offers an easy-to-follow recipe for comforting roast chicken.
Need some culinary inspiration this morning?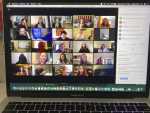 With bars shuttered and stressed-out workers stuck at home, companies and friend groups across the U.S. are holding happy hours over video chat to commiserate and keep spirits high.
Eight Oaks Farm Distillery filled its first 20 bottles on Monday, a batch destined for charitable groups that need hand sanitizer but haven't been able to get it due to the coronavirus pandemic.
Irish chef Donal Skehan whips up an original Guinness onion soup, served with a side of cheddar-thyme Irish soda bread. Easy to make, and the perfect St. Patrick's Day meal!
With plenty of time at home on St. Patrick's Day, consider this recipe for Irish soda bread from America's Test Kitchen.
1 thru 10 of 4475 Stories