Top Story
Odyssey Wellness Tattoo's Darlene DiBona shares her insights on how tattoos can offer healing and hope beyond their cosmetic appeal.
Texas Gov. Greg Abbott has signaled he will sign legislation that Republicans say is a defense of Chick-fil-A and religious freedom, but gay lawmakers sometimes tearfully railed against it on the House floor as a license to discriminate.
As Mexico City's 9 million residents sleep in the pre-dawn darkness, busy hands are already preparing the day's corn tortillas in the small kitchen of Molino El Pujol.
The business is still in its infancy, with the biggest players — Blue Apron and HelloFresh — less than a decade old. But they're facing serious challenges from restaurant and grocery delivery services, smaller niche players and even home chefs.
Rihanna reveals some new details about her forthcoming ninth album.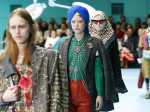 Nordstrom has apologized to Sikhs for selling a turban they found offensive, but a representative with the U.S. community's top civil rights organization said they are still waiting to hear from the Gucci brand that designed it.