Gay Orlando: The Latest
You won't pay for health care in retirement with one lump sum. That's the way these expenses are often presented, though, and the amounts are terrifying.
The Boston Theater Critics Association held their award ceremony Monday night at Boston's Huntington Avenue Theater. Later the attendees and honorees partied at the New England Conservatory of Music. See who was there.
The battle for Cuba's economic future is being waged on its beaches. And at its all-inclusive resorts, dive sites and cobblestoned colonial plazas.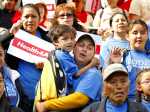 California lawmakers are considering proposals that would make the state the first in the nation to offer government-funded health care to adult immigrants living in the country illegally. But the decision on who to cover may come down to cost.
Kristin Chenoweth has been declared "Queen of the High C's" and VACAYA's godmother, along with Katharine McPhee, Leslie Jordan, Alex Newell, and Lesli Margherita headlining the inaugural August cruise.
Gay adult star Brandon Wilde is here to make your summer jams a little...steamier.
Netflix is sharing the first official trailer for the new installment of "Armistead Maupin's Tales of the City."
Alabama Public Television has chosen not to air an episode of the PBS children's show "Arthur" because it included a same-sex wedding.
Hit a button, and you're "transformed" into a woman. The beard disappears. The face and jaw smooth out. The hair floats jauntily around the shoulders.
Democratic presidential candidates are mourning a 23-year-old transgender woman in Texas who authorities say was the victim of "homicidal violence."
A former nurse charged with sexually assaulting an incapacitated woman who later gave birth at a Phoenix long-term care facility has appealed a court order requiring a test to determine if he has HIV or other sexually transmitted diseases.
Christophe Honoré ("Man at Bath") writes and directs this stylish film, which has shades of films like "Longtime Companion" and "Buddies," but also marks out its own distinctive territory.
President Donald Trump is vowing to have 500 miles of border wall built by the 2020 election. There's reason to be strongly skeptical about that. Here's a look at some of his rhetoric Monday night at a rally in Pennsylvania - and a look at the facts.
Google is assuring users of Huawei smartphones the American company's basic services will work on them following U.S. government restrictions on doing business with the Chinese tech giant.
Washington State residents thought they had purchased health insurance through an online site. But when it was time to pay the bills, they learned that the products they bought weren't insurance at all.
Ford revealed details of its long-awaited restructuring plan Monday as it prepared for a future of electric and autonomous vehicles by parting ways with 7,000 white-collar workers worldwide, about 10% of its global salaried workforce.
As Mexico City's 9 million residents sleep in the pre-dawn darkness, busy hands are already preparing the day's corn tortillas in the small kitchen of Molino El Pujol.
The Vashon Island School District has seen a significant increase in fully immunized children.
The 79-room annex at Mount Rainier National Park's Paradise Inn has reopened after a $25 million renovation.
Amidst the trend towards mindfulness and minimalism, Americans are increasingly finding happiness in cleaning — and the numbers are backing it up.