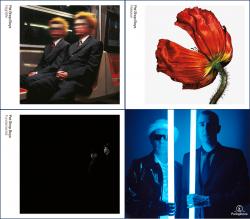 Enter to win reissued versions of Nightlife, Release, and Fundamental - the first three releases from the Pet Shop Boys' CATALOGUE: 1985-2012 - a landmark series of remastered Parlophone studio albums packaged with "Further Listening" albums of additional and previously unreleased material!

Nightlife, their darkly orchestrated collaboration with producers Rollo, Craig Armstrong and David Morales, originally released in 1999, is reissued with two "Further Listening" discs, including exclusive, unreleased tracks such as "Tall Thin Men" and "For All Of Us" as well as demo versions of "Vampires," "Call Me Old-Fashioned," and "Radiophonic."

Release, featuring Johnny Marr on guitar, also comes with two "further listening" albums of additional tracks including unreleased songs "Motoring," "The Night Is A Time To Explore Who You Are," "Run, Girl, Run," and "Reunion," as well as previously-unreleased John Peel versions of "A Powerful Friend" and "If Looks Could Kill," as well as a previously-unreleased cover version of Gilbert O'Sullivan's "Alone Again, Naturally" featuring Elton John.

Fundamental, their magnificent Trevor Horn-produced album will feature a 22-track "further listening" album of additional material including demos of unreleased songs such as "Ring Road," "One-way Street," and "Dancing In The Dusk," alongside previously-unreleased mixes and remixes.

Each album is available on 180-gram vinyl, as well as on CD and digitally.

The Nightlife, Release, and Fundamental reissues will be available July 28. Pre-order Now: http://www.petshopboysshop.co.uk/

http://petshopboys.co.uk
http://facebook.com/petshopboys
http://twitter.com/petshopboys
http://instagram.com/petshopboys

Enter to win!

Thanks for visiting EDGE!



Enter this contest
If you already have an account with EDGE, all you need to do is log in; we'll pull your address information from your account and simply ask you to verify it. If you do not yet have an account with us, register now! It's easy and free, and you'll never have to type in your personal information again. If you prefer to enter this information manually, you can use the manual entry link below.
Register
Manual Entry
Click here for contest rules.
* Please be aware that creating multiple accounts for the same person will disqualify you.