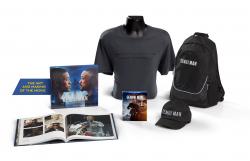 Called "visually stunning" (Yolanda Machado, GQ) and "a true breakthrough for action cinema" (Max Evry, ComingSoon.net), director Ang Lee's action-packed thrill ride GEMINI MAN arrives on Digital December 23, 2019 and on 4K Ultra HD, Blu-ray, and DVD January 14, 2020 from Paramount Home Entertainment.

Will Smith stars as retired hitman Henry Brogan, forced on the run by a young, highly skilled operative who will stop at nothing to eliminate his target. Now on a race around the globe, Henry must outsmart the mysterious assassin at every step - but how far will he go once they finally come face to face? Packed with epic fight scenes and groundbreaking visual effects, GEMINI MAN is the future of action movies.

The Digital, 4K Ultra HD, and Blu-ray releases are packed with over an hour of fascinating bonus content, including an alternate opening, deleted scenes, behind-the-scenes explorations of the film's groundbreaking technology, interviews with the cast and crew, and more.
Enter this contest
If you already have an account with EDGE, all you need to do is log in; we'll pull your address information from your account and simply ask you to verify it. If you do not yet have an account with us, register now! It's easy and free, and you'll never have to type in your personal information again. If you prefer to enter this information manually, you can use the manual entry link below.
Register
Click here for contest rules.
* Please be aware that creating multiple accounts for the same person will disqualify you.