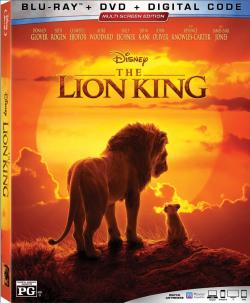 The Global Phenomenon Comes to Life Like Never Before

Disney's "The Lion King"

on Digital 4K Ultra HD™ and Movies Anywhere Oct. 11
on 4K Ultra HD and Blu-ray™ Oct. 22

Be prepared: Disney's "The Lion King," the worldwide phenomenon that brought the Pride Lands' iconic characters to life in a whole new way, arrives on Digital in HD and 4K Ultra HD™ and Movies Anywhere Oct.11 and physically on 4K Ultra HD, Blu-ray™ and DVD Oct. 22. Directed by Jon Favreau, the summer blockbuster, which reigned supreme with audiences worldwide — earning over $1 billion at the global box office and an A CinemaScore — journeys home with all-new bonus features, music videos and an exclusive extra for Digital consumers.

In "The Lion King," pioneering filmmaking techniques bring treasured characters to life in a whole new way. Simba idolizes his father, King Mufasa, and takes to heart his own royal destiny. But not everyone in the kingdom celebrates the new cub's arrival. Scar, Mufasa's brother — and former heir to the throne — has plans of his own. The battle for Pride Rock is ravaged with betrayal, tragedy and drama, ultimately resulting in Simba's exile. With help from a curious pair of newfound friends, Simba will have to figure out how to grow up and take back what is rightfully his. The all-star cast includes Donald Glover as Simba, Beyoncé Knowles-Carter as Nala, James Earl Jones as Mufasa, Chiwetel Ejiofor as Scar, Seth Rogen as Pumbaa and Billy Eichner as Timon.

In-home audiences will feel the love as they trek behind the scenes and to the African savanna through "The Journey to 'The Lion King,'" a three-part documentary that explores the film's creation. It features visits to the Playa Vista production facility where talent, including Donald Glover (voice of Simba) honor and elevate the animated classic's iconic music; discussions with Favreau and team who used cutting-edge technology to create photorealistic animals and environments; and filmmaker and cast reflections on the timeless tale that has moved generations. Extras also include "More to Be Scene," layer-by-layer progressions of some of the film's most iconic moments; lyric video for "Never Too Late" by Elton John and music video for "Spirit" by Beyoncé; sing-alongs to the film's unforgettable songs; and a feature on the "Protect the Pride" campaign, which focuses on protecting and revitalizing the lion population.

Enter to win!

Thanks for visiting EDGE!
Enter this contest
If you already have an account with EDGE, all you need to do is log in; we'll pull your address information from your account and simply ask you to verify it. If you do not yet have an account with us, register now! It's easy and free, and you'll never have to type in your personal information again. If you prefer to enter this information manually, you can use the manual entry link below.
Register
Click here for contest rules.
* Please be aware that creating multiple accounts for the same person will disqualify you.