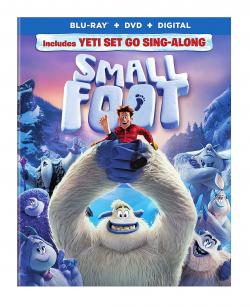 Worlds will collide when "Smallfoot" arrives on Blu-ray Combo Pack, DVD and Digital. The film stars Channing Tatum ("21 Jump Street," "Magic Mike," "The Hateful Eight") as the yeti, Migo, and James Corden ("Trolls," TV's "The Late Late Show with James Corden") as the smallfoot, Percy. "Smallfoot" was directed by Karey Kirkpatrick, Annie Award-winning director of "Over the Hedge" and Annie nominee for the "Chicken Run" and "James and the Giant Peach" screenplays.

An animated adventure for all ages, with fun new music by Zendaya & Common and featuring an all-star cast, "Smallfoot" turns the Bigfoot legend upside down when a bright young Yeti (Channing Tatum) finds something he thought didn't exist—a human! News of the "smallfoot," Percy (James Corden), throws the simple Yeti community into an uproar over what else might be out there in the big world beyond their snowy village. This is an epic story about friendship and courage!

The film also stars Zendaya ("The Greatest Showman," TV's "K.C. Undercover"), Oscar winner Common ("Wanted," "Selma"), LeBron James ("Trainwreck," TV's "The LeBrons"), Danny DeVito ("Matilda," TV's "It's Always Sunny in Philadelphia"), Gina Rodriguez ("Deepwater Horizon," TV's "Jane the Virgin"), Yara Shahidi (TV's "Black-ish," TV's "Trollhunters: Tales of Arcadia"), Ely Henry ("Some Freaks") and Jimmy Tatro ("22 Jump Street").

The screenplay for "Smallfoot" was written by Kirkpatrick and Clare Sera, and the screen story was written by John Requa, Glenn Ficarra and Kirkpatrick, based on the book "Yeti Tracks" by Sergio Pablos. The film was produced by Bonne Radford, Glenn Ficarra and John Requa. Nicholas Stoller, Phil Lord, Christopher Miller, Jared Stern, Kirkpatrick, Pablos, Courtenay Valenti and Allison Abbate served as executive producers.

Kirkpatrick's creative team included editor Peter Ettinger, composer Heitor Pereira, co-director Jason Reisig, production designer Ron Kurniawan, and art director Devin Crane. The animation was by Sony Pictures Imageworks.

From Warner Bros. Pictures and Warner Animation Group, a Zaftig Films production, "Smallfoot" will be distributed worldwide by Warner Bros. Pictures.

"Smallfoot" will be available on Blu-ray Combo Pack and DVD. The Blu-ray Combo Pack features a Blu-ray disc with the film and special features in hi-definition, a DVD with the film in standard definition and a Digital version of the movie.

https://www.facebook.com/SMALLFOOTMovie/

Enter to win!

Thanks for visiting EDGE!
Enter this contest
If you already have an account with EDGE, all you need to do is log in; we'll pull your address information from your account and simply ask you to verify it. If you do not yet have an account with us, register now! It's easy and free, and you'll never have to type in your personal information again. If you prefer to enter this information manually, you can use the manual entry link below.
Register
Manual Entry
Click here for contest rules.
* Please be aware that creating multiple accounts for the same person will disqualify you.