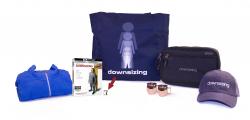 DOWNSIZING

"An Ingenious Comedy"
- Owen Gleiberman, Variety

"Downsizing Is Wildy Imaginative"
- Ann Hornaday, Washington Post

On 4K Ultra HD, Blu-ray™, DVD & Digital March 20, 2018

Hailed as "a tremendously entertaining heart-felt comedy" (Julian Roman, Movieweb), director Alexander Payne's (The Descendants, Nebraska) hilarious DOWNSIZING arrives on 4K Ultra HD, Blu-ray, DVD and Digital March 20, 2018 from Paramount Home Media Distribution. When scientists find a way to shrink humans to five inches tall, Paul Safranek (Academy Award winner** Matt Damon) and his wife Audrey (Kristen Wiig) decide to ditch their stressed out lives in order to get small and live large in a luxurious downsized community. Filled with life-changing adventures and endless possibilities, Leisureland offers more than riches, as Paul discovers a whole new world and realizes that we are meant for something bigger. "Brilliant and daring" (Shawn Edwards,Fox-TV) and "full of surprises" (Noah Gittell, Nerdist), DOWNSIZING also stars Academy Award winner Christoph Waltz*** and Hong Chau in a breakthrough performance that earned her Golden Globe® and SAG nominations. The DOWNSIZING 4K Ultra HD and Blu-ray Combo Packs include nearly an hour of fascinating bonus content with six behind-the-scenes featurettes. Join the incredible cast including Matt Damon and Kristen Wiig, plus Academy Award-winning director Alexander Payne to see how his unique vision was brought to life. Take a journey on set and check out the production design and visual effects behind the miniaturized world of Leisureland, and much more!

Special Features:

o working with Alexander
o the cast
o a visual journey
o a matter of perspective
o that smile
o a global concern

www.DownsizingMovie.com

Enter to win!

Thanks for visiting EDGE!
Enter this contest
If you already have an account with EDGE, all you need to do is log in; we'll pull your address information from your account and simply ask you to verify it. If you do not yet have an account with us, register now! It's easy and free, and you'll never have to type in your personal information again. If you prefer to enter this information manually, you can use the manual entry link below.
Register
Manual Entry
Click here for contest rules.
* Please be aware that creating multiple accounts for the same person will disqualify you.