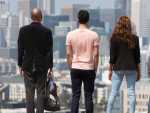 A documentary puts several human faces on something many would rather resist facing: Violence around the world, and how America, so-called "Land of Opportunity," isn't always that for those who come seeking sanctuary.
With a stand-out performance by Katie Findlay, the indie straight/gay rom-com "Straight Up" is charming even if it's narratively unsatisfying.
By sticking to his dramatic fundamentals - questions of isolation, purpose, grief, longing and belonging - Loza keeps his strange tale grounded in the good earth of effective storytelling.
"Gay Chorus Deep South," a 2019 documentary about a men's choir touring the American Deep South, has been bought by MTV Documentary Films. The studio, run by former HBO exec Sheila Nevins, hopes to organize a theatrical release.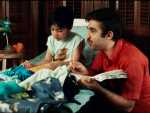 This bizarre coming-of-age comic drama is the tale of how a psychotic closeted Midwestern makes a life for himself in NY
The horrific thing of murdered children occurs a handful of times in an Italian giallo horror movie release, presented on Blu-ray from Arrow Video.
A documentary of Mexico's most famous gay Lucha Libre champion.
Wes Craven's much-maligned sequel "The Hills Have Eyes Part 2" is now available on Blu-ray from Arrow Video. The new 2K restoration may look stunning, but it certainly shows off a compromised project that doesn't really make itself a reason to exist.
This hauntingly beautiful love story from Mexico from a first time filmmaker is a real gem.
"Copa 181" is another well-made LGBTQ movie from Brazil, where the government, under self-proclaimed gay hater Jair Bolsonaro, has recently declared that government funds will now be withheld from cinema projects containing LGBTQ content.