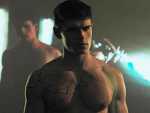 Austrian filmmaker Gregor Schmidinger calls this psychedelic trip a post-gay coming of age story.
You might mentally file this movie alongside others of a certain theme and setting: "Another Country," "The Imitation Game," and perhaps "Fat Man and Little Boy," but the film's hollow heart and less than credible storytelling finally catch up to it.
The real horror here would be forcing someone to sit through this "The Conjuring" spin-off for multiple viewings.
This Belgian comedy gives us a "Green Card" plot twined together with a "Wedding Banquet" sensibility, exploring the nature of sympathy and compassion in the process.
The 21st OUTshine Film Festival - Miami, once again paves the way for the year in queer cinema by showcasing some of the most exciting LGBTQ titles. Mark my word: You will see a host of these same gems programmed in numerous upcoming festivals.
Cannes Film Festival organizers announced its 2019 line-up Thursday, pitting leading names in world cinema including Ken Loach and Pedro Almodóvar against each other in competition for the top prize, the Palme d'Or.
Judi Dench is back in the world of espionage — but her latest role is a far cry from James Bond's unflappable spy chief, M.
Part thriller, part erotic drama (albeit with the eros mostly submitted), "The Harvesters" yields a cinematic bounty and might well make new stars of its director and two main actors.
Marvel Studios, which has never shied away from a little rule-breaking, is taking a sledgehammer to that old "don't leave money on the table" maxim, and audiences will finally be able to see how they do it when "Avengers: Endgame" opens nationwide.
Ryan Murphy is already lining up his next Netflix project.