Angel Has Fallen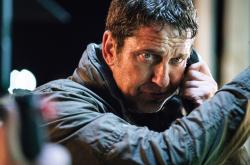 Every three years since 2013, the human race is once again exposed to another Mike Banning movie. I mean that sincerely because it is nice to have something to depend on in these trying times.

"Angel Has Fallen," the third installment after 2013's "Olympus Has Fallen" and 2016's "London Has Fallen," still stars Gerard Butler as the hero Mike Banning, doing his best to serve and protect. Banning has been compared unfavorably to a variety of hard-gunning heroes, from Brian Mills of the "Taken" franchise, John McClane of the "Die Hard" movies, and even Jack Bauer of the television show "24."

Guns, drones, the Internet of Things, explosions, and murder take center stage, which may remind many audience members of sci-fi or superpowered hijinx from a Marvel or DC cinematic event, but Mike Banning does not have superpowers. He's just one man with a plan and weapons expertise, kind of like Batman, if Batman was into blowing things up and didn't mind collateral damage too much. Mike's a family man and former Army Ranger who beats down and shoots up the bad guys without really thinking too far ahead. Luckily, in the third installment, he's facing down villains who know him well enough to set him up, so he's got the psychology and overall potential actions covered.

Maybe the Banning hype has cooled a bit since the first, and admittedly most successful film in the series, owing as much to the passage of time as well as the rolling releases and rereleases of entire action franchises and online action shows such as "Tom Clancy's Jack Ryan." Attention fatigue and, specifically, the late summer release schedule may bury what is one of the most enjoyable releases of the year. Where "Olympus" traded in intentional humor and "London" was unintentionally funny, "Fallen" makes the comedy duo of Gerard Butler and Nick Nolte the head, butt, and middle of their own jokes.

The fantasy of having Morgan Freeman, a sublimely presidential man, as our current Commander in Chief is truly seductive. Several chases and gunfights move quickly, but are easy to follow, given the way they were filmed. Although both slow-motion shots and quick cuts are grainy at best, the overall editing clearly follows the plot.

"Fallen" could have asked more difficult questions of the audience regarding war and peace, but the veiled references to modern American military history ring true even when the technology and fancy pyrotechnics don't.
Angel Has Fallen
Authorities take Secret Service agent Mike Banning into custody for the failed assassination attempt of U.S. President Allan Trumbull. After escaping from his captors, Banning must evade the FBI and his own agency to find the real threat to the president. Desperate to uncover the truth, he soon turns to unlikely allies to help clear his name and save the country from imminent danger.
Info
Runtime :: 121 mins
Release Date :: Aug 23, 2019
Language :: Silent
Country :: United States

Cast
Mike Banning :: Gerard Butler
Allan Trumbull :: Morgan Freeman
Travis Cole :: Frederick Schmidt
Wade Jennings :: Danny Huston
Leah Banning :: Piper Perabo
Agent Murphy :: Ori Pfeffer
Clay Banning :: Nick Nolte
Bruno :: Rocci Williams
Vice President Kirby :: Tim Nelson
Agent Thompson :: Jada Smith
Sam Wilcox :: Michael Landes
James Haskell :: Mark Arnold
Ad. Paul Sebring :: Kerry Shale
Gentry :: Lance Reddick

Crew
Director :: Ric Waugh
Screenwriter :: Robert Kamen
Screenwriter :: Matt Cook
Screenwriter :: Ric Waugh
Producer :: Gerard Butler
Producer :: Alan Siegel
Producer :: John Thompson
Producer :: Les Weldon
Producer :: Yariv Lerner
Executive Producer :: Avi Lerner
Executive Producer :: Trevor Short
Executive Producer :: Heidi Markel
Executive Producer :: David Bernardi
Executive Producer :: Jeffrey Greenstein
Executive Producer :: Jonathan Yunger
Executive Producer :: Christa Campbell
Executive Producer :: Lati Grobman
Executive Producer :: Mark Gill
Film Editor :: Gabriel Fleming
Original Music :: David Buckley
Production Design :: Russell De Rozario
Costume Designer :: Stephanie Collie
Casting :: Dan Hubbard

Noe Kamelamela is a reader who reads everything and a writer who writes
very little.
Comments on Facebook