Catamaran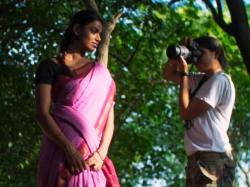 Swarnavel Eswaran's lyrical feature film "Catamaran (Kattumaram)" takes its name from the double-hulled seafaring craft - a nice metaphor for two souls ideally suited to face life challenges only when they are together, but also a fitting image given the setting, a fishing village in India (probably in Goa).

The village where young Anandhi (Preeti Karan) lives was demolished by a tsunami twelve years earlier; the people still struggle with the aftermath, including her uncle, Singaram (Mysskin), who lost both his sisters and took in their children. Young Mani (Ajay) is still a child, but Anandhi has reached marriageable age, and Singaram is obsessed with finding a suitable match for his niece.

The problem is that he expects her to want a young man - and that's not at all what Anandhi would like. Instead, she's attracted to a newcomer from the city, Kavita, a photography teacher who wears trousers, smokes cigarettes and rides a motorcycle. Others at the school where Anandhi teaches are scandalized by Kavita (Anusha Prabhu), but Anandhi is intrigued... especially once she discovers that Kavita has already lost a life partner, another woman named Lakshmi.

Singaram, like the rest of the village, is hard hit by the decline of the local fishing, but he's generous by nature to those who turn to him, such as Malar, a pregnant widow with whom he is smitten. He even turns a blind eye to the misdeeds of local lothario Kamar (G.R. Adithya), a tractor driver who overcharges the fishermen for his services and dallies with their wives while they are at sea - in particular, Singaram's neighbor, Philomena (Gabriella Sellus), a Christian convert. Singaram is so broad-minded that he even, at one point, suggests that his niece marry a fellow fisherman named Iqbal (Giri Prasad), despite the young man being a Muslim; such a union is a shocking proposition to the village at large. But will Singaram's natural kindness and understanding extend to accepting his niece when he discovers that she loves another woman?

The film's portrait of village life is both affectionate and unsparing, but it's a beautifully rendered work of cinema that benefits from the performances of its cast as well as a lush, evocative score by P. Bharani Dharan. Layered with symbolism and detail, this is a film that demands close attention; the presence of Arunmozhi (Selvam), a transwoman who lives on the margins of the village and makes her living cutting hair, is not explained so much as ingrained into the story, but to Western cinematic sensibilities that additional element of LGBTQ representation can seem confusing.

Still, this film brings its themes into one lovely package. Recommended.
Catamaran (kattumaram)
Conservative middle-aged fisherman Singaram cares for his orphaned niece and nephew who he loves deeply. As Singaram works hard to provide for his family, he also tries to arrange a groom for his niece. But she rejects the many suitors he brings, and he soon learns that his niece is in love with her fellow female teacher. Ostracized by his community, Singaram tries to come to terms with his niece being a lesbian and through the process he learns to empathize with the plight of the village barber Alankaram, who is transgender.
Info
Runtime :: 73 mins
Release Date :: Jan 01, 2019
Country :: India

Crew
Kilian Melloy serves as EDGE Media Network's Assistant Arts Editor. He also reviews theater for WBUR. His professional memberships include the National Lesbian & Gay Journalists Association, the Boston Online Film Critics Association, The Gay and Lesbian Entertainment Critics Association, and the Boston Theater Critics Association's Elliot Norton Awards Committee.
This story is part of our special report titled "Seattle Queer Film Festival." Want to read more? Here's the full list.
Comments on Facebook