This Is Not Berlin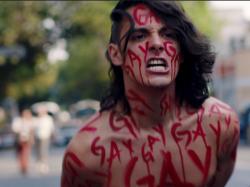 Small was 17-year-old Carlos's world: Fights at school, claustrophobic home life (kid brother, depressed mother), hanging with his pal, crushing on Rita, that pal's sister. One day, like Alice's rabbit hole fall, he enters a fascinating wonderland. Can this misfit join another kind of "family"? He tests his limits there: A club that's really off-limits (he's underage). But he's granted entry in gratitude for having saved the day by fixing the needed electric keyboard belonging to Rita's band, which performs there. These eager, wide-eyed youths are mesmerized by the venue embracing booze, taboos, and whatever sexuality you choose. There's punk rock, political rebellion, plenty of art and artists, a lack of inhibitions, no lack of drugs. Check your innocence at the door. You won't get it back.

Time: the mid-1980s. Place: Mexico City. "This Is Not Berlin" is in Spanish with English subtitles. This roller coaster ride is rarely predictable or preachy, packing a punch at times. You may feel very much the voyeur, but one who grows to root for the characters, wanting to warn them as temptations loom, when falling-outs among friends lead to free fall when sorrows overwhelm. Meanwhile, the period-soaked visual detail and music pulsates and piles up, making for a visual and emotional landscape that has its own inebriating effect.

Xabiani Ponce de Leon, a graduate of Disney TV's Spanish wing, plays Carlos with a mix of the easy charm of a teen idol and lost puppy dog wistfulness. Slacker or sleek, he's cannily convincing as the guy with his own charisma and insecurities, magnetizing people to him. The film semi-sweetly takes its sweet time in considering the sexuality of Carlos and erstwhile BFF (a sympathetic José Antonio Toledan), but that feels less like a tease than natural self-questioning and exploration the boys are dealing with. There are some brief flashes of nudity, but it's more about emotions being laid bare than being laid.

The movie's deftly inventive multi-tasker director/co-writer/co-producer/co-editor Hari Sami also plays a key role as an actor. He's the ingratiating uncle who's a caring and guiding force in Carlos's life in early scenes when the boy needs a compass and support. Sami drew upon his own experiences in the sociopolitical climate of the times portrayed.

Look for this coming-of-age story, coming soon to a theatre near you.
This Is Not Berlin
A liberal-minded couple are forced to reconsider their image of their adopted son after he writes a disturbing essay for a class assignment.
Info
Runtime :: 115 mins
Release Date :: Aug 23, 2019
Language :: Silent
Country :: Mexico

Cast
Carlos :: Xabiani Ponce de León
Gera :: José Toledano
Nico :: Mauro Navarro
Maud :: Klaudia Garcia
Rita :: Ximena Romo
Tito :: Américo Hollander
Esteban :: Hari Sama
Carolina :: Marina de Tavira
Susana :: Lumi Cavazos

Crew
Director :: Hari Sama
Screenwriter :: Rodrigo Ordoñez
Screenwriter :: Hari Sama
Screenwriter :: Max Zunino
Executive Producer :: Ale García
Executive Producer :: Hari Sama
Executive Producer :: Antonio Urdapilleta
Executive Producer :: Verónica Valadez
Cinematographer :: Alfredo Altamirano
Film Editor :: Ximena Cuevas
Film Editor :: Rodrigo Ríos
Film Editor :: Hari Sama
Art Director :: Diana Quiroz
Costume Designer :: Gabriela Fernandez

ROB LESTER returns to Edge in 2019 after several years of being otherwise occupied writing and directing musical theatre shows, working as a dramaturg, arts consultant, and contributing articles and reviews to various outlets. His long-running "Sound Advice" column covering cast albums and vocal CDs has been running regularly at
www.TalkinBroadway.com
for almost 15 years.

This story is part of our special report titled "aGLIFF 2019." Want to read more? Here's the full list.
Comments on Facebook