Gay Orlando: The Latest
The Trump administration and coal industry allies are insisting that a federal black lung trust fund will continue to pay benefits to sick miners despite a drastic cut in funding.
Gov. Phil Bryant says he's not worried about lawsuits as Mississippi prepares to enact one of the strictest abortion laws in the nation.
Could Aunt Becky be headed to prison? It could go either way, experts say.
The Brazilian Government announced this week that Brazil will allow visa-free entry for U.S. citizens beginning June 17, 2019.
"Empire" co-creator and executive producer Lee Daniels says the weeks since cast member Jussie Smollett was arrested and charged with fabricating a racist and homophobic attack have been "a freakin' rollercoaster."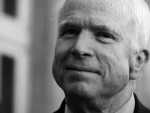 Casting aside rare censure from Republican lawmakers, President Donald Trump aimed new blasts of invective at the late John McCain, even claiming credit for the senator's moving Washington funeral and complaining he was never properly thanked.
K-pop singer Jung Joon-young was attending a South Korean court hearing Thursday on whether a warrant will be issued for his arrest on allegations he illegally shared sexually explicit videos of women taken without their knowledge or consent.
At a packed eastern Iowa house party, a staffer for Democrat Beto O'Rourke's presidential campaign tried to clear enough space for the candidate to reach the kitchen, where he would need to climb a stepladder to address the crowd.
EDGE writer John Amodeo unwittingly roused jazz & cabaret star Ann Hampton Callaway for a recent conversation. The singer heads to the East Coast next week for dates in NYC & Boston.
Saturday night, the Washington Heights neighborhood held their new weekly LGBT all-inclusive party with pop, urban and Latin mix beats by DJ Nesto who kept the crowd dancing all night long.
It's only 15 minutes, but this major burn includes narrow press ups, mountain climbers with lateral moves and more thanks to Joe Wicks, aka The Body Coach.
"Yoga Play's" bigger questions about how we try to measure sincerity in material ways is the sort of thing art and media don't often examine closely, and it's hard to imagine another show that encapsulates capitalist absurdity so, well, authentically.
President Donald Trump's posthumous slam on Sen. John McCain flips reality on its head when it comes to who gave veterans the option to see a private doctor at public expense.
A woman who operated a popular YouTube channel featuring kids is facing allegations she used pepper spray to discipline her seven adopted children, and locked them for days in a closet.
If you're hoping to reduce household food waste, experts say there are two key things to do: Eat what you have, and buy only what you need.
German automaker BMW says its profits this year will be "well below" last year's due to higher raw materials prices, the costs of compliance with tougher emissions requirements and unfavorable shifts in currency exchange rates.
Labrador retrievers aren't letting go of their hold on U.S. dog lovers, but German shorthaired pointers are tugging on the top ranks of doggy popularity.
Contracts with so-called restrictive covenants are now common in medicine, although some states limit their use.

Located northeast of Quebec City along the St. Lawrence River, the Charlevoix Flavor Trail features more than four dozen local growers, producers and restaurateurs in an area known as a rural vacation spot for the wealthy in the early 20th century.
Talk about POV. In what some might call a personal tech advance, a UK company called Julz has released a product that combines the use of silicon cock rings and video called the "Cock Cam."