Abraham Lincoln: Vampire Hunter
The history/fantasy mash-up Abraham Lincoln: Vampire Hunter collides onto the big screen in what is this year's weirdest, zaniest, most entertaining movie of the year.

Seth Grahame-Smith has taken his best-selling novel and crafted a loving nod to Lincoln by taking facts of his life and intertwining a "secret" history involving a life-long revenge against the vampire that killed his mother. Spanning 45 years in Lincoln's life (right up to wife Mary calling him to their carriage or they'll be "late for the theater"), the film opens with Lincoln as a young boy, defending his African American friend Will from his abusive owner. He does so with a flourish of an axe and the roar of a warrior, but his little frame is easily overtaken, so his brave father steps in to defend the two boys. This does not sit well with Mr. Lincoln's boss who fires Lincoln's father and threatens revenge.
When Abraham's mother is attacked by a vampire and dies - retaliation for what occurred earlier - Abraham vows to kill the creature that did it. So sets the stage for Lincoln's dual life as a student of law (and future President), with his "freelance" work as a vampire hunter.

Having been rescued and then hired by Henry Sturgess (Dominic Cooper), Lincoln teams up with Henry who mentors him and then periodically sends him secretive messages with the name of a known vampire he must destroy. This occurs at night, while keeping up the façade that he is a simple student of law by day. He does this not only to protect humanity, but with the hopes that one day Henry will send him the name of the vampire that destroyed his family - one Jack Barts (Marton Ckokas).

Along the way, Lincoln will meet future wife Mary Todd (Mary Elizabeth Winstead), the gruesome vampire twosome Adam (Rufus Sewell) and Vadoma (Erin Wasson), and reconnect with childhood friend Will (Anthony Mackie). His weapon of choice is the axe which Henry specially outfits with a silver blade - perfect to wipe out vampires. Eventually, Lincoln will become President and have a child, but all the while he will continue to fight for Americans everywhere by destroying the creatures of the night that infect the United States of America.
Clearly, this is one of the most ridiculous premises ever invented. And that is what is so much damn fun about it. While the characters on screen take themselves incredibly seriously, director Timur Bekmambetov ("Wanted") and producer Tim Burton consistently remind us that what we are seeing is outlandish. Action scenes are wildly inventive with impossible feats of aerial dexterity (watch for Vadoma's move with a wooden chair) and action scenes that are jaw-dropping in their incredulity. While the train scene is just as over-the-top and awesome as the one in "Wanted," it is worth the price of admission alone for the sequence involving Lincoln, Jack Barts, and a stampede of wild horses that has to be seen to be believed.

Shot in a sometimes over-saturated tone (that looked a bit like it was shot on video tape) combined with other scenes that were more crisp, I wasn't sure if the print we had was off, or it was a stylistic choice. The result is that some long shots look a bit blurry. The rest of the film looks great with the period detail painstakingly captured and the sets (digital or otherwise) nicely rendered. The 3D was converted, so at times it has that Viewmaster feel, so whether it's necessary to see it in 3D is up to your preference. I think it would be fine without it.
That said, those minor tech things were really my only flaws with the movie. I mean, it's not Shakespeare, but it's craftier than it should be and even the dramatic scenes are pulled off because the actors commit to them. Benjamin Walker as Lincoln is not only a dead ringer for Liam Neeson, but a pretty great screen presence for an otherwise unknown film actor. Julliard trained, he leaps into the role with gusto and not only captures the regality of the President, but nails the action hero sequences with the verve of an action star.

The rest of the cast plays it straight with a bit of a whimsical glint in their eyes. Caleb Deschanel's cinematography is appropriately grand and gruesome, and the makeup by Greg Cannom and Visual Effects by Michael Owens and Craig Lyn is top notch for this type of whacked-out narrative. I especially liked how the vampires had familiar traits, but with more frightening set of chompers that kept them fresh. I also enjoyed the twist on the mythology where these vampiress have not only adapted to the sunlight, they can make themselves invisible at will. This provides a number of cool sequences and effects where the heroes have to figure out how to fight something they can't see.

When it's all said and done, this is just a hoot of a film. Don't go looking for anything even close to realism, even though there are plenty of true historical facts interwoven with the more (eh-hem) "unrealistic" parts. Its brainy stuff mixed with extravagantly cracked whimsy. I honestly did not stop smiling from the moment it started until long after the credits rolled. Hands down the most fun I've had at the movies this year.
Abraham Lincoln: Vampire Hunter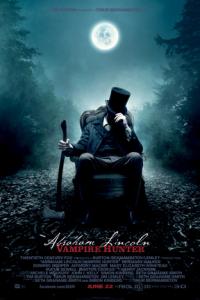 Info
Runtime :: 105 mins
Release Date :: Jun 22, 2012
Language :: English
Country :: United States

Kevin Taft is a screenwriter/critic living in Los Angeles with an unnatural attachment to 'Star Wars' and the desire to be adopted by Steven Spielberg.
Comments on Facebook